TARI Dakawa Agri-Expo 2022: Stakeholders in the rice subsector urged to use agri-expos as an important platform to foster the farmer's economy
22nd July, 2022 09:17
By

NGABO.PAMBA

News
---
The guest of Honor, Hon. Hussein Bashe, the Minister of Agriculture, represented by Mrs. Blandina J. Marijani, who is the Head of the Department of Agriculture, Irrigation, and Cooperatives of Mvomero District Council, Morogoro, has encouraged cooperation among various stakeholders in the rice sub-sector in the country to stimulate the growth of the farmer's economy and the country as a whole.
"I ask that you continue to maintain the existing cooperation between you and the Ministry of Agriculture in achieving agricultural development in the country and raising the economy of the people and the nation as a whole", said Mrs. Blandina on behalf of Hon. Bashe.
She has said this when addressing the audience including farmers, representatives of public institutions (from TARI, ASA, TOSCI), the International Rice Research Institute (IRRI), private local and international agro-input companies as well as rice and other crops value adders, financial institutions (banks) and journalists at the agribusiness expo held on 21.07.2022 at the TARI Dakawa Centre. Mrs. Blandina so said after visiting the display organized at the center grounds, trials, and demonstration plots of newly released improved rice varieties set in fields to see for herself the ongoing research activities, the services provided for agricultural inputs, soft agricultural loans, and various products made from rice.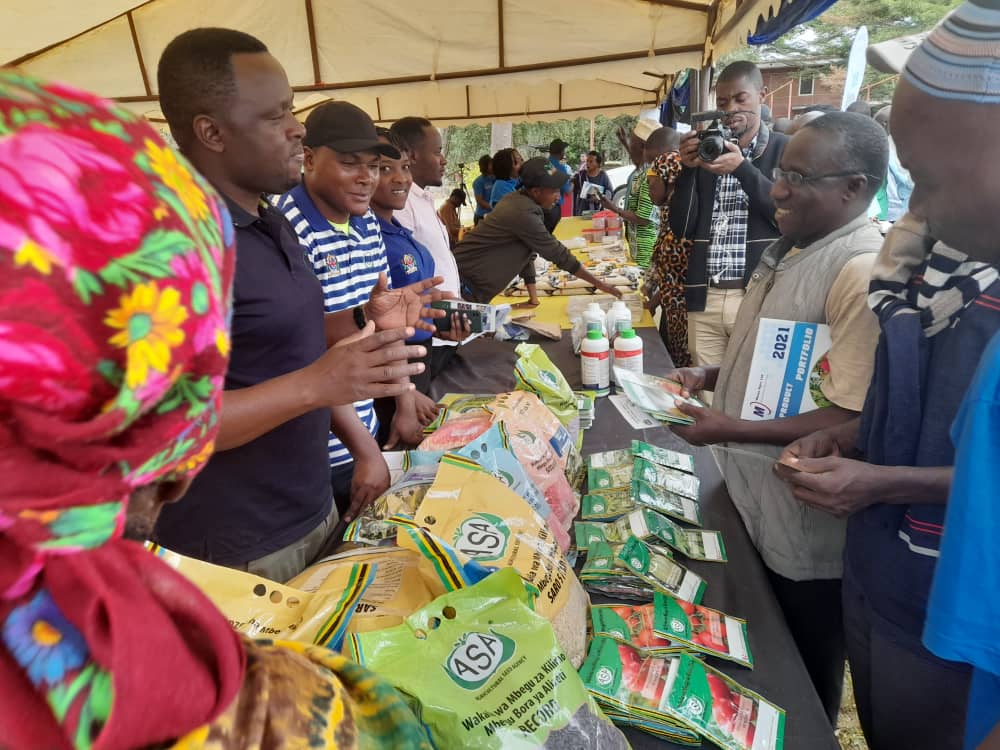 Farmers had an opportunity to exchange information and knowledge with agricultural service providers during the exhibition.
On her part, Mrs. Mshaguley Ishika, representing the Director General of the Tanzania Agricultural Research Institute (TARI), encouraged farmers to use the opportunity of the exhibition to get the education and other agricultural services important to increase productivity in agriculture and get rid of subsistence agriculture. She emphasized the use of good-quality agricultural seeds.
Dr. Jerome Mghase, the centre manager hosting the exhibition humbly welcomed the guest of honor and other participants to keenly observe and evaluate the field performance of the already released improved rice varieties (TARI RIC 1, TARI RIC2, TARI RIC3, TAXD306, KOMBOKA, SATO 1, SATO 9) generated in collaboration between TARI Dakawa and its partners.
About 196 stakeholders, among them 85 women, participated in the exhibition. These included agro-dealers (Suba Agro Trading Co. Ltd, Syngenta, Mbeya Agro Chemicals, Agricultural Seed Agency, and the Tanzania Official Seed Certification Institute), processors (MW Rice Millers and New Hope Community), government leaders, village and ward agricultural extension officers, and farmers' cooperatives (UWAWAKUDA-based at Dakawa irrigation scheme, CHAURU - Ruvu Irrigation Scheme). Others who participated are researchers from TARI Headquarters, Ilonga, Ifakara, Uyole as well as the International Rice Research Institute (IRRI) and farmers.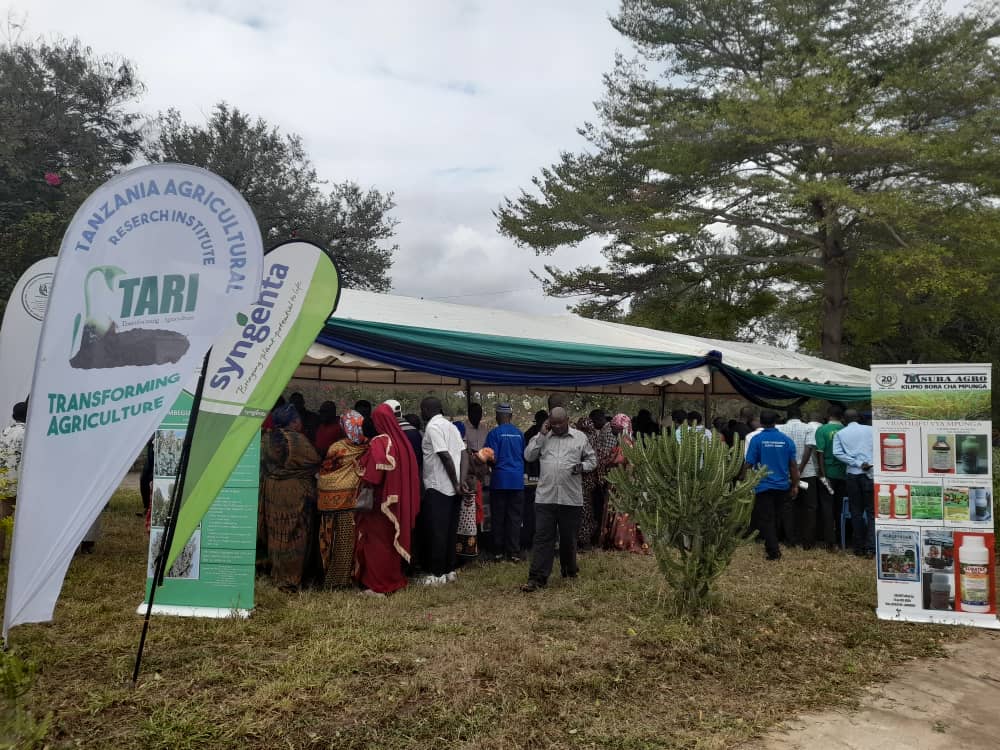 Participating private companies and public institutions exhibit their products and services to farmers and other stakeholders during the agri-expo
---